Bulk Herbs, Teas & Spices
We are Brisbane's largest retail herbal apothecary. Visit us in store to select from our organic and wild harvested medicinal and culinary herbs and spices. We have prepared carefully handcrafted medicinal tea blends to support common health concerns. Individualised tea blends are available in store, our friendly staff will be more than happy to help!
We are also proud to be Brisbane's most extensive liquid herbal extract dispensary open to the public. Individualised herbal tonics are prepared in store by a qualified herbalist/naturopath. We utilise premium quality Australian-made herbal extract brands at the Green Grocer. We are very happy to offer dispensary script filling services for clinical practitioners and their clients.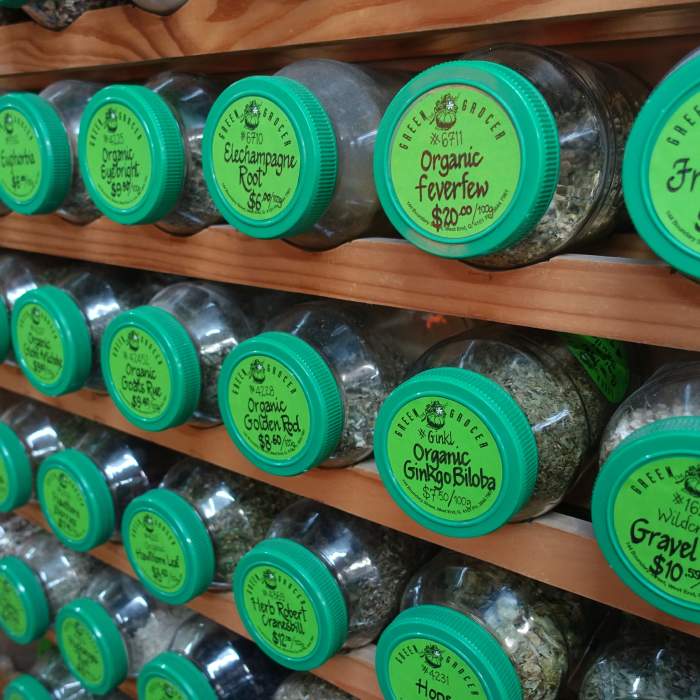 Organic Food & Supplements
Walk into a huge health food pantry in the heart of West End! Organic, gluten free, vegan, low FODMAP, refined sugar free options across a variety of products and brands. We strive to select the best, most delicious products. Shop for organic, local coffee, fermented foods, bone broth, plant based protein powders, green and red superfood powders, prebiotics & probiotics.. just to get started! We believe in Food as Medicine, however we stock our shelves with the best Australian owned and manufactured therapeutic nutritional supplement brands and products, when you need the extra boost!
Go waste free with refillable items for your pantry and bulk cleaning products! Bring in your own containers to directly refill, or make use of community donated bottles and jars. Organic and local pantry goods in bulk including grains, nuts, honey, sauces and spreads. Grind your own fresh peanut butter from locally sourced Australian peanuts!
We stock biologically friendly and low/no toxin cleaning products for kitchen, bathroom, floors and laundry. Biodegradable and compostable plastic alternatives for food storage and kitchen products. Replace your single use coffee cups, straws, food storage containers and cutlery with reusable, eco-friendly brands.
We have a fully qualified Naturopath on staff to assist in addressing common health concerns. Naturopathic medicine is a discipline to care for the physical, mental and soulful aspects of health. Shop in store to make the most of naturopathic healthcare advice on herbal and nutritional supplementation plus dietary and lifestyle suggestions. The Green Grocer Naturopath offers reliable, holistic health advice weekdays in store.